TEMPUR-PEDIC PILLOWS — 

LIKE SLEEPING ON A CLOUD
Premium pillows made with the same legendary TEMPUR® material as our mattresses.
TEMPUR® material isn't like ordinary memory foam.  TEMPUR® materials provide unparalleled pressure relief to help you fall asleep faster and stay asleep longer.
From the moment you lie down until the moment you rise, every Tempur-Pedic pillow precisely adapts to your head, neck, and shoulder's weight, shape and temperature to reduce and relieve pressure points and alleviate discomfort — while providing optimal support and encouraging proper alignment of your neck and spine.
Every Tempur-Pedic pillow is made with the same pressure-relieving material originally developed by NASA to absorb the g-force of astronauts during shuttle launches, then perfected by our scientists for sleep.  
The TEMPUR-AlignTM PRO-MID Pillow
This pillow has a soft feel and offers a dual sided design. Two layers of TEMPUR® material in different thicknesses provide two options of support just by flipping the pillow!
Features:
Medium profile pillow
FEEL: Soft
Dual sided design:

TEMPUR® Micro-Cushions to provide an adaptive and conforming experience on one side 
TEMPUR® Technology on the other side

Same legendary TEMPUR® Material as our mattresses
Removable, Washable, Breathable Cover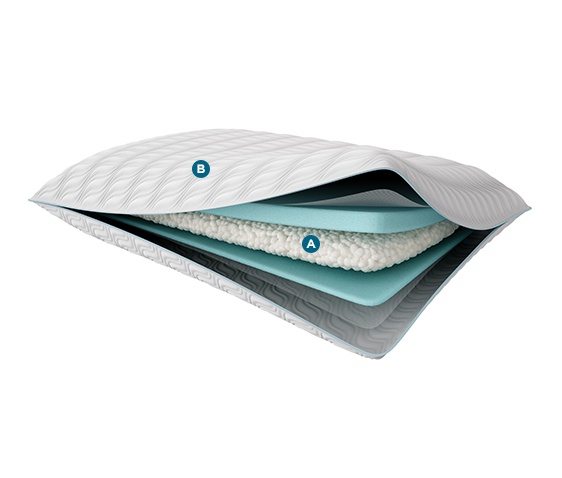 A- Inside
Patented Micro-Cushions on one side, TEMPUR® Technology on the other for personalized comfort and support. 
B- Outside
 A highly breathable cover that is removable and washable.
Sizes
About TempurPedic Canada
TEMPUR® Material's open cellular structure immediately and precisely adapts to your weight, shape, and temperature. Your body heat causes the material to soften, continuously adapting to your shape as you sleep through the night. Intended to absorb pressure, our mattress and pillow materials help stop tossing and turning and the motion transfer caused by restless nights. And, you may not know, Tempur-Pedic's history began at NASA. In the 1960s, NASA scientists started developing a new material to absorb the G-force of astronauts traveling into space, and later our scientists perfected it for sleep. Now, TEMPUR® Material is a proprietary, one-of-a-kind technology that we've evolved over decades.
Some memory foam sinks where your weight rests, making it difficult to turn over – and causing you to feel trapped in your mattress or pillow. TEMPUR material gives you both support and pressure relief exactly where you need it, so you don't feel stuck in your bed. Plus, certain commodity memory foams will harden uncomfortably in cooler temperatures, making it a challenge to get the rejuvenating rest you need. With TEMPUR Material, the heat your body creates as you sleep softens and reshapes the mattress and pillow to fit you perfectly, night after night.
We know—another drawback of a traditional memory foam mattress is the unpleasant smell it can bring into your bedroom. At Tempur-Pedic, we allow our mattresses and pillows to "rest" and release any odors resulting from the production process before they're ready to enter your home. Plus, TEMPUR material is CertiPUR-US® certified, so you can rest easy knowing your best night's sleep is made healthier for you and the planet.
Basic memory foam is simply no match for TEMPUR technology.